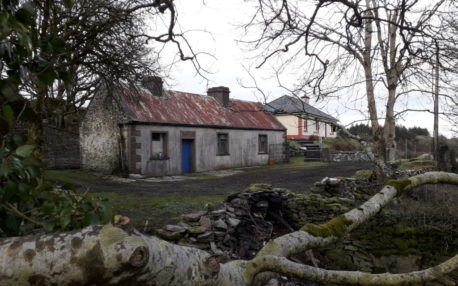 Now available! 'The Sunny Side of the Alps: From Scotland to Slovenia on a Shoestring' has been published by Ant Press. Buy it here:
The Sunny Side of the Alps
McCann's Farm
After sixteen years living in Slovenia, we have now been in Ireland for sixteen months. The circumstances that conspired to lead Justi and myself here make us feel both baffled but extremely grateful. That as they say though, is another story, and I'll be telling that one in book number three.
We are now the guardians of a small bungalow on just under 2 acres of land in Co. Mayo. Our goal is to turn most of the land into a wild haven for local wildlife and keep about a third for ourselves to grow vegetables.
So far we've planted 100 native trees and will be planting another fifty next month. Our lovely neighbours gave us a polytunnel that they were no longer using, and we were able to grow fourteen types of veg in it in our first year. It wasn't all smooth running though as we are on a steep learning curve regarding the vagaries of the Irish climate. Our potatoes got blight and several times we worried that the polytunnel would end up in another county during each of the 'named storms' that blast in from the Atlantic like howling banshees.
Next to our house stands a derelict cottage and several stone outbuildings. Whenever I 'go missing' for long periods of time, the cottage is the first place Justi looks. I was excited about the cottage as soon as I first saw it on the auctioneers website. It's become my dream (obsession : Justi) to make it into a warm dry workshop/art studio.
With the risk of becoming a cottage bore, I'll let you know how that project unfolds in future blogs.
Right now though I'm trying to batter my self into shape having committed to an endurance race and cycle sportive in May. I've got to shed the kilos accumulated through noshing umpteen Toffee Crisps, Bakewell tarts, tikka pasties and other treats that I missed for sixteen years!